The Dangers of Sexist Rhetoric on Social Media (2016-2021)
Social networks have created new communication channels, but they are also a breeding ground of sexist rhetoric and gender specific desinformation about female candidates and politicians. With the upcoming federal elections in Germany, the subject is currently especially important and visible. This article analyzes common attacks against women with examples from Germany and the US.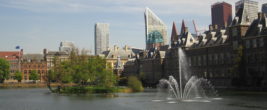 In many countries around the world, human rights defenders are persecuted for their work and convictions. They are put under surveillance, threatened, harassed, and detained arbitrarily; often, they face enforced disappearance, torture, and even death. One of the organizations concerned with the protection of human rights defenders is the Dutch NGO Justice & Peace. In 2012, the organization founded the program Shelter City. Under the program, human rights defenders are offered temporary protection for three months in a Dutch city. In this time, they can recover and resume their work in peace.