The persecution of Hedme Castro continues in Honduras – call for donations
Hedme Castro, director of the human rights organization ACI-PARTICIPA in Honduras was a guest of the Nuremberg Human Rights Center (NMRZ) from March to September as part of the ESI (Elisabeth Selbert Initiative) protection program for persecuted human rights defenders. Now her house has been burned down. We stand in solidarity with our friend Hemde and have opened a donation account, so that she can find a sace place to stay.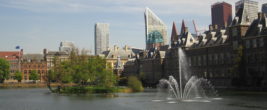 In many countries around the world, human rights defenders are persecuted for their work and convictions. They are put under surveillance, threatened, harassed, and detained arbitrarily; often, they face enforced disappearance, torture, and even death. One of the organizations concerned with the protection of human rights defenders is the Dutch NGO Justice & Peace. In 2012, the organization founded the program Shelter City. Under the program, human rights defenders are offered temporary protection for three months in a Dutch city. In this time, they can recover and resume their work in peace.